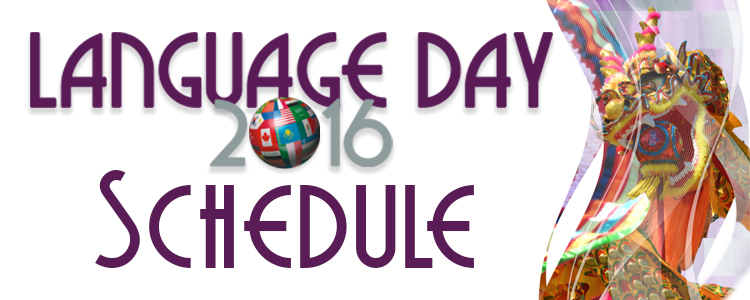 ---
Language Day is our opportunity to share with you the secret we have all discovered – knowing a foreign language opens windows to the world!
You are invited to attend the DLIFLC Language Day on May 13, 2016. Several thousand high school students and their chaperones throughout California and neighboring states are encouraged to take advantage of this opportunity to visit our world-renowned military language Institute for a day.
The 2016 DLIFLC Language Day event will kick-off @ 10:00 am until 3:00 pm. Please be advised that DLIFLC does not provide transportation to this event. In addition, due to security measures, you may not be able to bring bags (i.e. back packs, oversized bags, etc.) into the event area.
Planned activities for the day consist of classroom demonstrations, cultural exhibits, outdoor entertainment, and lectures. See our website for more information:
Things to consider bringing to the event: jacket/raincoat (in case of rain or cold weather), cash (food vendors on-site), sun block and water.
Due to security measures and limited parking, please plan on arriving early. Most visitors start arriving at 8:00 am.
To contact the DLIFLC staff for specific questions please contact us using: Language_Day@dliflc.edu or call (831) 200-4200.
---
The event dates back over sixty years and it used to be called the Army Language School Festival. Historical documents about the ALS Festival point to April of 1952. You can see what the ALS Festival looked like by browsing DLIFLC – A Pictorial History book, available for free as a PDF.
Language Day is organized and presented by our amazing students. They come from every branch of the U.S. Armed Forces; Army, Marines, Navy and Air Force. Our teachers come from all over the world and bring language,authentic culture and passion to DLIFLC.
Most students find themselves spending every spare second studying and practicing their target language. It's not unusual to overhear conversations in Persian Farsi or late-night banter in Russian all over campus.
---
"The first couple of months my head would just ache all the time," said Pfc. Shannon Stone, an Arabic student. "You have to pack so much into your brain so fast. But the teachers were great. They are native speakers, and they try to make sure we learn a lot about the cultures, as well as about the languages themselves."
Teachers and students work very closely, Stone said, and the teachers often take a personal interest in the success of their students. Though our students spend five days a week, seven hours per day in class, with two to three hours of homework each evening, they still find time to prepare for Language Day.
The annual event provides an exciting chance to enjoy sights, sounds, and tastes from around the globe, and to discover the terrific things going on here at the Presidio of Monterey.
Talk with our students and faculty as you roam around the campus and through our corridors. They are eager to meet you and share with you their experiences, insights, and their passion for learning languages.