Colonel Roger L. Bowman
Director, FAO Program Office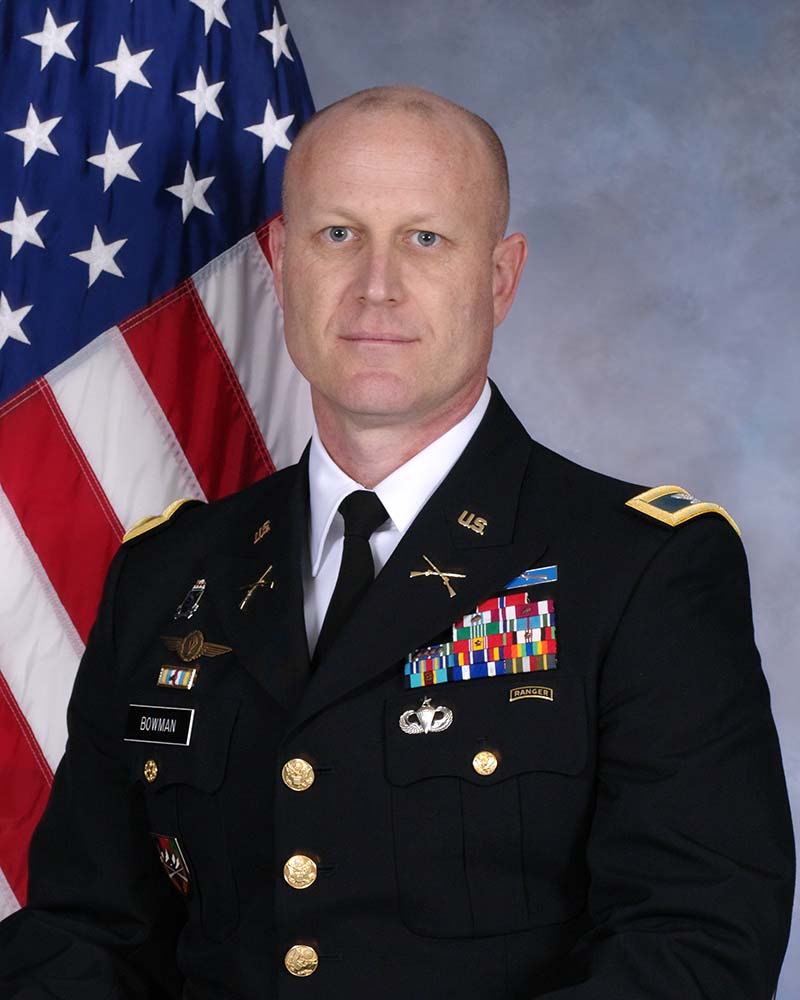 Colonel Roger L. Bowman is currently assigned as the Director of the Foreign Area Officer Program Office at DLIFLC, Presidio of Monterey, California. Col. Bowman is responsible for supervising the training and professional development of approximately 100 newly-assessed U.S. Army Foreign Area Officers as they complete their language training at DLIFLC. Col. Bowman is also the course director for the biannual Joint Foreign Area Officer Course (JFAOC), Phase I.
Col. Bowman is a distinguished military graduate of the Army Reserve Officer Training Corps Program at Washington State University and began his career as an infantry officer in 1993.  Col. Bowman's first military assignment was to Fort Riley, Kansas, where he served as a Mechanized Infantry Platoon Leader, Reconnaissance Platoon Leader, and Rifle Company Executive Officer in the 1st Infantry Division. Following completion of the Infantry Officer Advanced Course at Fort Benning, Georgia, Col. Bowman was assigned to Fort Bragg, North Carolina, where he served as Assistant Battalion Operations Officer and Airborne Rifle Company Commander in the 82nd Airborne Division.
Col. Bowman began his training as a Eurasian Foreign Area Officer in 2003 when he entered the Basic Russian Language Course at DLIFLC. Following completion of language training, the Bowman family moved to Garmisch, Germany, where Col. Bowman completed advanced Russian language training and short assignments at the U.S. embassies in Almaty, Kazakhstan, and Kiev, Ukraine.
Following graduation from the U.S. Army Command and General Staff College and the Joint Military Attaché School, Col. Bowman was assigned to the U.S. Embassy in Kyiv, Ukraine as the Assistant Army Attaché. Following his assignment in Ukraine, Col. Bowman deployed to Kabul, Afghanistan, to work as a political-military staff officer in the office of the Deputy Commander for International Security Cooperation of NATO Training Mission-Afghanistan. Most recently, Col. Bowman served as chief of the Office of Defense Cooperation at the U.S. Embassy in Riga, Latvia.
Col. Bowman's awards and decorations include the Bronze Star Medal, the Defense Meritorious Service Medal (two awards), the Meritorious Service Medal (two awards), the Expert Infantryman Badge, the Senior Parachutist Badge, the Ranger Tab, the Ukrainian Parachutist Badge, the German Parachutist Badge, the Latvian Minister of Defense's "Medal of Honorary Recognition," the Polish Armed Forces Bronze Medal, the Latvian Land Forces Medal (2nd Class), and the Latvian Air Force Medal (2nd Class). Col. Bowman holds Masters' degrees in Interdisciplinary Studies (Public Policy) and International Studies (Russian, East European, and Central Asian) from the University of Washington. Col. Bowman is also a Russian and Ukrainian linguist.
Col. Bowman is a native of Woodinville, Washington, is married and has four sons.