Where: Weckerling Center, Bldg. 326
Presidio of Monterey, CA 93944
Dates: Aug. 28-30, 2018
Time: 07:45 – 16:30
---
Welcome to the Advanced CLPM Workshop
---
Welcome to the annual Advanced Command Language Program Manager Workshop. The first event was held June 6th, 1994 at the Presidio of Monterey. The workshop was initiated as a means of communicating current trends to CLPMs and providing a forum for collaboration and CLPM professional development. Over the years the event has changed; however, its focus of collaboration and CLPM professional development remains the same. We look forward to meeting all of you personally and hearing from you what DLIFLC can do to help you in the important work that you do for military language professionals.
TUESDAY, 28 AUGUST 2018
0730-0830

Course Registration

0830-0845

Opening & Administrative Announcements

0845-0850

Commandant-Welcoming Remarks

COL Gary M. Hausman
0850-0915

Provost Update

Dr. Robert Savukinas
0915-0945

DLI-Washington

MAJ Joy C. Lehnert
0945-1030

DCSIT

Ms. Terri Brutzman
1030-1045

Break

1045-1130

DLNSEO Update

CDR Jed R. Espiritu
1130-1300

Lunch

1300-1350

Cyber Update

Mr. Brad Dietz
1350-1430

ODNI Update

Ms. Amy Kowalczyk,

Ms. Jill Sandler and

Ms. Nazaret Berhane

1430-1445

Break

1445-1530

National Cryptologic School

Ms. Beth Mackey and

Ms. Linda Davies

1530-1545

Break

1545-1630

USD(I)

Mr. Robert (BJ) Sanchez
1630-UTC

Administrative Announcements
WEDNESDAY, 29 AUGUST 2018
0745-0800

Administrative Announcements

0800-0850

Provost Sergeant Major

SGM James V. Southern
0850-0900

Break

0900-0945

DCSOPS Update

Dr. Clare Bugary
0945-1020

Language Proficiency Assessment Directorate

Mr. Kalman Weinfeld
1020-1030

Break

CLP Best Practices

1030-1040

Marine Corps Nominee

1040-1050

Navy Nominee

1550-1100

Air Force Nominee

1100-1110

Army Nominee

1110-1130

DOD  CLPoY & LPoY Presentations

COL Hausman and

CSM Donehue

1130-1300

Lunch

1300-1315

Administrative Announcements

1315-1630

Service Breakout Sessions

Service Program Managers
THURSDAY, 30 AUGUST 2018
0745-0800

Administrative Announcements

0800-1000

Continuing Education

Dr. Branka V. Sarac

Dr. Tamas G. Marius

1000-1020

Operational Skills Test


Ms. Tara Schendel
1020-1100

TRAP/SMDR

Mr. Terry W. Thornton
1100-1115

Break

1115-1200

DLIFLC Accreditation

Dr. Erin O'Reily

1200-1330

Lunch

1330-1400

Closing Remarks

COL Gary M. Hausman
1400-1630

Service Breakout Sessions

Service Program Managers
You can download the entire 2018 Program for the Advanced CLPM Course by clicking here.
How To Register
All attendees must be registered in ATRRS. The Advanced Workshop can be found under school code 215 (DLIFLC). The course is "OOZZ-A" (Zero Zero Zulu Zulu – Alpha).
For additional assistance, please use the "Contact" tab above.

Click here for ATTRS website…
Lodging Arrangements
Welcome to the beautiful Monterey Peninsula and the home of the Defense Language Institute Foreign Language Center. We have several suggestions for lodging and have requested that blocks of rooms be set aside at various locations in Monterey/Seaside. To see each individual hotel and its proximity to the Presidio, please click on the map.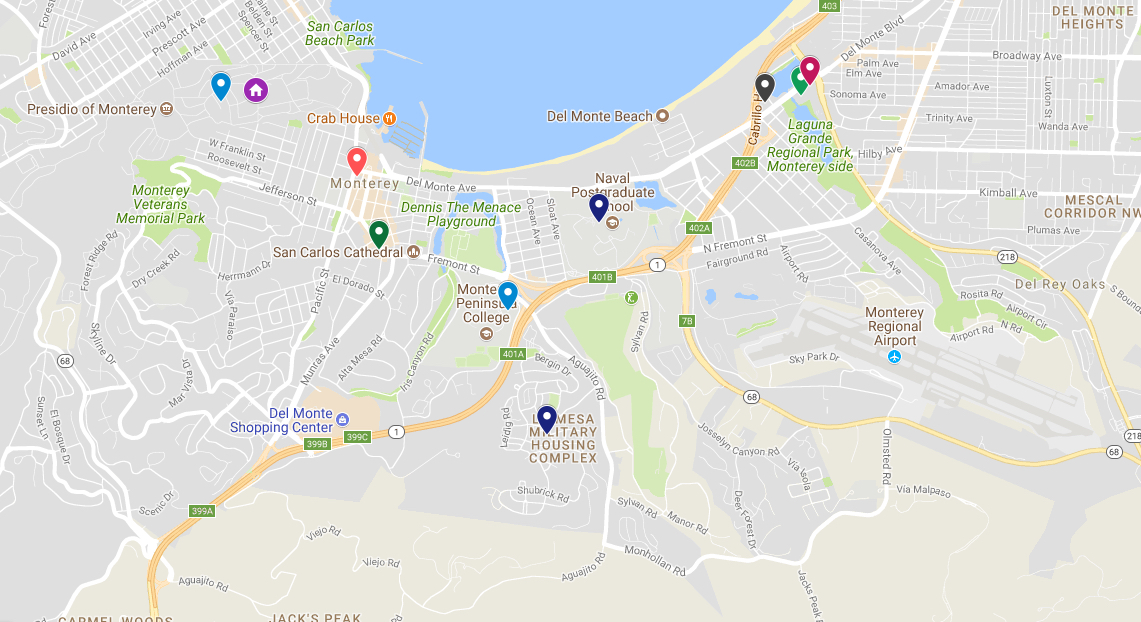 The table below has information for reservations at individual hotels. We recommend that you book your lodging ASAP! All reservations must be guaranteed with a major credit card. The hotels will not hold any reservations unless secured by credit card.
Flying
If you are flying, you may use the San Jose International Airport  or the Monterey Peninsula Airport. San Jose is located 71 miles north of Monterey. We recommend that you take Highway 101 southbound instead of Highway 17.  Monterey airport closes at approximately midnight. If you chose to drive please note that Pvt. Bolio Road entrance is the only visitor gate.
Driving from the North
Use Highway 101 South to the Monterey Peninsula exit near Prunedale (Highway 156 West). This five-mile road leads to Highway 1 South.
At the mouth of the Monterey Bay, Highway 1 South travels on the outskirts of Marina and Seaside, as well as the former Fort Ord, now called the Ord Military Community (OMC).
Continue along Highway 1 South until just south of the Seaside city limits; then take the Del Monte exit. Follow Del Monte until you approach the Fisherman's Wharf intersection.
At this point there are two choices to get to the installation:
Move to the left lane at the Fisherman's Wharf intersection. Follow straight ahead, passing the Portola Plaza Hotel of Monterey (on your right). At Pacific Street turn left. Go one block, turn right and go up Franklin Street. At the crest of the hill you'll be entering the Presidio of Monterey at the Franklin Street Gate.
Move to the right lane at the Fisherman's Wharf intersection and follow the signs to Cannery Row. Go through the tunnel and then get into the right lane. Veer right onto Foam Street. Take the first left turn. Then take an immediate left again onto Lighthouse Avenue (because you can't make a left from Lighthouse onto Pvt. Bolio road). Turn right onto Pvt. Bolio Road. It will take you onto the Presidio via Pvt. Bolio Road.
Driving from the South
Use Highway 101 to Salinas. Follow Highway 68 signs to Monterey Peninsula/Highway 1 to the Pacific Grove City/17-Mile Drive turnoff (Highway 68). Turn right. Follow Highway 68 to Prescott Avenue. Turn right on Prescott Avenue.
At the first traffic light, turn right on Taylor Street. Within one block's distance you'll enter the Presidio through the Taylor Street Gate.
For gate hours info please go to this Presidio of Monterey page.
To contact our office, or CLP managers, please go to our Contact Us page and select CLPM from the drop down menu.
As a participant in the ACLPM Workshop at the Defense Language Institute Foreign Language Center, we are asking you to participate in our After Action Review (AAR) survey.
Your participation in the survey is completely voluntary and all of your responses will be kept confidential.
The survey is very brief and will only take about five minutes to complete. Please click the link below to go to the survey website.