MONTEREY, Calif- Air Force Maj. Joshua M. Hallada, currently a student at the Defense Language Institute Foreign Language Center, was recognized with the Silver Star for his bravery in flying a helicopter rescue mission April 23, 2011, in Afghanistan.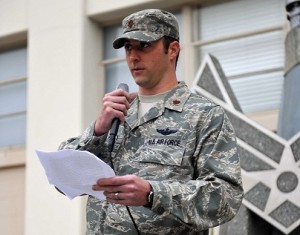 Hallada was honored for a second time Aug. 29 at DLIFLC, in front of the 547th Training Group, composed of young Airmen and fellow language students. DLIFLC Assistant Commandant, Col. Laura Ryan, introduced Hallada not only as a remarkable individual for his bravery, but as one who would not take credit for his own actions without the recognition of his team members who were equally responsible for the rescue mission's success.
On that day in April, Hallada was the flight lead for Pedro 83, a search and rescue team operating out of Bagram Airfield in Afghanistan. Pedro 83's mission was to infiltrate into an enemy controlled area to rescue two downed U.S. Army pilots in the Allasay Valley.
Hallada and his crew, 1st Lt. Elliot Milliken, two Senior Airmen Justin Tite and Michael Price, two para-rescuers and a combat rescue officer, disregarded their own safety to support and rescue fellow service members. They were hit more than 10 times by small arms fire during their seven approaches into the hot landing zone.
A twist in the day's events took place when Hallada's aircraft was attacked and forced to land at a French-operated Forward Operating Base to wait for a replacement helicopter.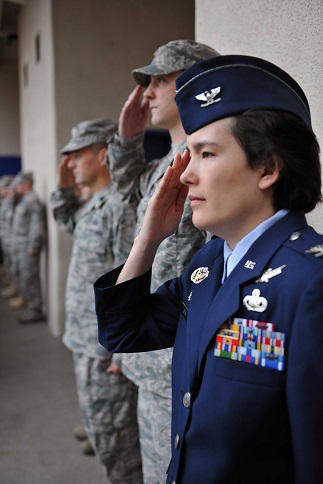 "I had no linguistic ability of course, but the liaison had linguistic ability and he was able to interact and provide us with information from the French forces that we would not have had otherwise," said Hallada.
After receiving information from the Soldier at the French FOB about the massing of enemy fighters who were preparing to launch an attack against the rescuers and downed pilots, Hallada and his combat rescue officer coordintated with an Army unit preparing to infiltrate into a blocking position to protect their crewmembers on the ground.
"Without this [information], the events of that day could have led to much different results and I probably would not be standing before you today," he explained to the Airmen before him.
Today, Hallada is studying Urdu at DLIFLC, and is planning to become an Air Force Regional Affairs Strategist (RAS) officer, a program that offers training in foreign language and regional and cultural understanding and leads toward a career in political-military affairs with assignments at home and abroad.
"The reason I want to be a RAS or a FAO (Foreign Area Officer), is from my years of experience deploying to Afghanistan and Iraq, I've seen the importance of cultural awareness (and) language understanding on the battlefield and in the embassies. And, my perception is that the way to win these wars and … the way to prevent further conflicts is through these paths," he said.
Aside from the Foreign Area Officer path, linguists work in various areas, mainly unseen and unheard. Intelligence analysts normally work behind closed doors in rooms without windows, making sure that other service members in the field are safe. Without the constant feed of this crucial intelligence, airmen could be flying blind during missions or ground troops could walk into ambushes.
But just as important to the success of these missions are people such as Hallada's team members, Tite and Price, who along with the rest of the crew selflessly put their own lives in danger for the safety of others.
"Some day, when you are at your post and you are part of something far away, please remember that you may be a key component in bringing someone home that day and remember our motto: 'These things we do, that others may live,'" said Hallada to a clapping formation of Airmen.
Story and Photo Credits:
Story by Seaman Jeffrey Leader, photos by Natela Cutter, Strategic Communications
Photo 1: Air Force Maj. Joshua M. Hallada, currently a student at the Defense Language Institute Foreign Language Center, was recognized Aug. 28, 2012, with a Silver Star for his bravery in flying a helicopter rescue mission April 23, 2011, in Afghanistan. (U.S. Army photo by Natela Cutter)
Photo 2: DLIFLC Assistant Commandant, Col. Laura Ryan, salutes 517th Training Squadron troops during Reveille. Standing next to her is Capt. Joshua Hallada, and Lt. Col. Michels Pryor, commander of the 311th Training Squadron on Aug. 28, 2012. (U.S. Army photo by Natela Cutter)
---
Posted Date: 20 September 2012