MONTEREY, Calif. – Beginning in March of this year, students studying Modern Standard Arabic at the Defense Language Institute Foreign Language Center were given the opportunity to spend four weeks in Morocco, DLIFLC's newest immersion destination.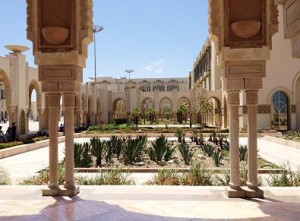 One of the first classes to go was a group of three Marines and five Soldiers who spent their time living with host families and attending a language institute during the month of June in the capital, Rabat.
"It was immensely beneficial, because it was kind of a gut check … Even if you went home there really wasn't any escape from using the language," recalled Spc. John Dixon, one of the students who participated in the immersion, when asked about living with a host family.
The students received four to five hours of language instruction at the institute five days a week and would often have some type of activity later in the afternoon such as a lecture, debate, or a cultural activity. On the weekends the students would go on excursions to one of the prominent Moroccan cities such as Marrakesh, Fes, or Casablanca.
"I was just astounded by our trip to Fes because we had an amazing tour guide who seemed to know every single person in the city. He knew every single nook and cranny of the old city that we should see and experience and because of him we did … he knew exactly where to go … and talking with workshop owners and introducing us to them to learn what they do and talking about the history of the city, it was just amazing," said Dixon.
The group was headed by their Military Language Instructor, Staff Sgt. Jennifer Tweedy, who kept a watchful eye on her students and ensured they spoke Arabic at all times. When faced with an unfamiliar dialect, or even French, she encouraged them to span the gap and continue to attempt communication.
"The biggest thing that I saw in the students was their willingness just to speak in Arabic and to speak about anything. For some of them, their speaking level wasn't as high as the others but even those students seemed to gain more confidence and they seemed more willing to speak as time went on," said Tweedy.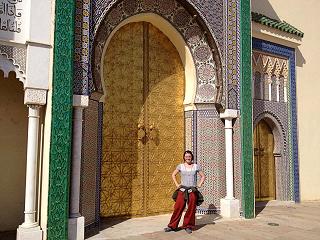 The students spent much of their evenings out in the city exploring and taking in as much of the culture as possible by either interacting with locals in the marketplace or visiting different locations with their host families, such as the Turkish bath houses.
"Once they realized that you spoke their language there were no barriers," shared Spc. Alison Ramsey. She added, "I loved bargaining in the market place because you don't really do that here, maybe at yard sales or garage sales, but it is a purely cultural experience."
The students faced many issues beyond just language differences. The culture in the Arab world is something that many Americans aren't used to and most people never have a chance to experience. However, through the use of their language skills the students were not only able to overcome these obstacles, they thrived in the environment.
"There is a wall as a tourist, immediately, in any place and being able to use the language with someone, it bridges that [gap] and opens up that wall and creates a closer connection," explained Dixon.
Overall, these overseas immersions are meant to give DLIFLC students the opportunity to exceed military expectations by increasing their language skills and making them more aware of cultural differences.
"That is why I think the immersion program is so important. There is no way you can learn about [Arab] society by just reading about it, you have to actually go out and experience it yourself and go and interact with the people," said Ramsey.
Photo and Story Credits:
Story by: SN Jeffrey Leader, Strategic Communications Photo 1: The Islamic madrassa (school) attached to the Mosque of King Hassan II in Casablanca, Morocco. (Courtesy photo)
Photo 2: Spc. Alison Ramsey in front of the Royal Palace in Fes, Morocco, in June 2012. (Courtesy photo)
---
Posted Date: 7 September 2012