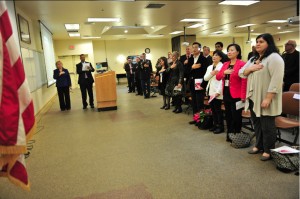 The United States has ten new citizens as of February 7th. The Defense Language Institute Foreign Language Center's faculty and their family members were sworn in during a Special Naturalization Ceremony, held at the Presidio of Monterey.
The Institute's commandant, Col. Danial D. Pick, delivered the opening remarks welcoming each new citizen and briefly describing their path towards American citizenship. Section Chief Anita Erfan, from the U.S. Citizenship and Immigration Services, officiated the Oath of Allegiance, while USCIS officer Danilo Ayran, who was born in the Philippines, delivered keynote remarks about his own naturalization experience.
This was the third such ceremony held at DLIFLC, which was preceded by a USCIS outreach event, held earlier that same day. During the event, USCIS officials were on hand to introduce those interested in becoming U.S. citizens to the process and to answer any general questions. During the one on one segment, attendees at the outreach event could ask USCIS officers personally relevant questions. Almost sixty DLIFLC faculty and staff took part in the outreach event.
Story and photo credits
Story by Dusan Tatomirovic, DLIFLC PAO
130207-A-1550S-001 DLIFLC Naturalization ceremony, at POM. Photo by Natela Cutter, DLIFLC PAO
---
Posted Date: 7 February 2013