MONTEREY, Calif. – U.S. military Russian linguists who work for the Defense Threat Reduction Agency are known throughout the entire Department of Defense as the best interpreters in DoD.
"We've had that reputation for quite some time and we've worked hard making sure that we maintain that reputation," shared Tech Sgt. Gennadiy Treyger.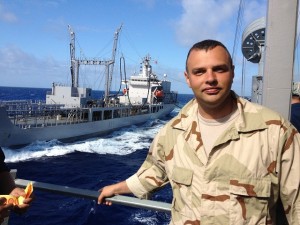 Treyger, and three other graduates of the DTRA – Defense Language Institute Foreign Language Center's Russian program, interpreted between Russian and U.S. service members during RIMPAC (Rim of the Pacific) 2012, the largest international maritime warfare exercise.
This was Russia's first time participating in the five-week biennial event and they sent two support ships and a destroyer, the Russian Federation Ship Panteleyev. The exercise took place in the waters off Hawaii and included 20 other foreign navies.
While DTRA linguists spend the majority of their time maintaining their language skills through daily training and translating and interpreting in support of arms control reduction treaties and nuclear inspections, opportunities to conduct missions of a different sort come around about once a year.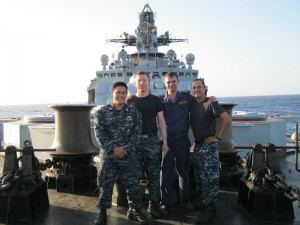 "The Russians primarily came in to exercise their Visit, Board, Search, and Seizure, VBSS, teams. Those teams are the guys who will board a suspected … pirate ship, conduct a search of the ship, (and) make sure that they do not transport illegal cargo," explained Treyger. "These guys have had experience down in the Gulf of Aden."
The interpreters' primary mission was to facilitate and monitor radio communication between the Russian and U.S. ships. Two DTRA members were stationed aboard the Pantalayev while the other two remained aboard U.S. ships.
In addition to their linguistic skills, all the interpreters were able to also use their knowledge of Russian culture to prevent misunderstandings, keep the mission on track, and ensure the safety of all the crews.
Treyger described one event in which the Russian tug boat went to tow a U.S. ship, but had failed to explain to the Americans how they planned to do it.
"Within the first six to seven minutes of the exercise, we realized that they're doing something … that we had never seen before. We needed to find out exactly what they were doing, because our commander was not willing to risk his ship, as well as the lives of everybody on board," said Treyger.
Jumping into gear, Treyger got on the radio to decipher what was going on, and attempt to understand the Russians' maneuvers. "Once I figured that out, I had to explain that to the United States side," he said.
After communicating with the Russian tug, Treyger was able to use his cultural understanding and explain the Russian logic, "We were able to have a very close working relationship, literally, in distance, as well as [figuratively]. It turned out to be really safe."
"It was very interesting culturally," shared Petty Officer 1st Class Caleb Moore, who was on board the Pantalayev with three other U.S. Service Members.
He helped explain the differences between Russian and American culture to them in an attempt to prevent frustrations over delayed meal times, having escorts everywhere they went, and only being allowed to shower every four days. "I know it may not seem normal to you, but this is how it works."
Story and Photo Credits:
Story by: Sgt. 1st Class Rebecca Doucette, Strategic Communications
Photo 1: Russian Linguist Tech. Sgt. Gennadiy Treyger waits on a U.S. ship prior to boarding a vessel to conduct Visit, Board, Search and Seizure training, during RIMPAC 2012. (Courtesy photo)
Photo 2: Russian linguist Petty Officer 1st Class Caleb Moore (2nd from left) with two of his fellow service members and their Russian escort aboard the Russian Federation Ship Panteleyev, July 14, 2012, in the waters off of Hawaii. (Courtesy photo)
---
Posted Date: 21 September 2012