MONTEREY, Calif. – Maj. Gen. Clyde Butch Tate, the Deputy Judge Advocate General of the Army, visited the Presidio of Monterey Office of Staff Judge Advocate April 18 in a bi-annual scheduled visit of outlaying installations that are within his realm of responsibility. Article 6 of the UCMJ requires the general officers of the different services' JAG Corps to regularly inspect their general court martial convening authorities.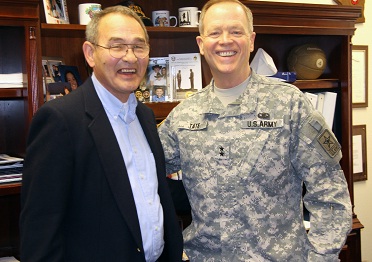 "Maj. Gen. Tate and his Command Sgt. Maj. Troy Tyler came to the Installation to visit with my staff to ensure that our law practice is providing excellent service which the multi-service commanders and their service members deserve," said Lt. Col. Bill Schmittel, the Staff Judge Advocate at the Presidio, who oversees an office that normally includes 10 military and 19 civilian employees.
"Within the Army and Department of Defense, it is important for us to have senior leadership in the JAG Corps visit and talk with us about the state of our Corps and significant legal issues concerning sequestration, furloughs, and the force in general," explained Schmittel.
With a beaming smile and firm handshake, Tate visited every office and employee, shaking each person's hand, addressing them by name, and talking about family members, pets, and hobbies, Tate put a coin in several deserving hands, thanking them for their hard work and dedication.
"Thank you for not only doing your job well, but also for allowing me to learn about your job. We get a lot of insights like that, and it is very beneficial for us," said Tate, in the beginning of an address to about 25 staff members.
With the ramping down of U.S. military involvement in the Middle East, the role of JAG will be just as important, Tate stressed, and thus educating JAG officers will also be paramount. "As we are faced with budget cuts, we need more distance learning, we need to have courses that will give us
flexibility," he explained.
"Maj. Gen. Tate and Command Sgt. Major Tyler's Article 6 visit was a complete success. They were truly impressed with the level of our legal office's knowledge, due diligence, and professionalism," said Schmittel after the visit.
Story and Photo Credits
Story and photos by Natela Cutter, PAO
Photo 1: Maj. Gen. Clyde Butch Tate, the Deputy Judge Advocate General of the Army, and Command Sgt. Maj. Troy Tyler, walk into Capt. Michael Davis' office during their visit to the Staff Judge Advocate Office on the Presidio April 18.
Photo 2: Maj. Gen. Clyde Butch Tate, the Deputy Judge Advocate General of the Army, visits with Donald Yee, the Legal Administrator/Administrative Officer for the Presidio of Monterey Office of the Staff Judge Advocate on April 18th.
---
Posted Date: 18 April 2013